Bad self-service advertising platforms are platforms that do not reach their potential which means lost ad revenue for publishers. Our Customer Success team at DanAds has more experience than most and in their view it all comes down to 'adding value' at every stage.
A good sales person adds value when they sell, not only because they know all the key sales points, but because they communicate with passion the advertising proposition, making the advertiser feel they are buying into the brand.
When you replace human contact with automation you can lose this value to a cold and functional process.
With this in mind, can you risk a move to an automated self-service advertising platform and not lose out? The answer is a most definite YES…advertising ops automation is the next evolution and you will be the loser if you do not embrace it. Self-service gives you consistency, and all you need to do is make sure you add value to the advertisers experience to make self-service  the best 'sales-person' you ever had. 
So how can you build 'added value' into your self-service sales platform? Here are our three top pointers:
1. Know your best sales proposition.
Every sale person should know the one line they use most to explain why their product is better than anyone else's. This is the feature or USP that attracts advertisers, it is your core benefit. Your self-service sales platform needs to be built around this proposition.
Here is a good example. Tripadvisor, as the world's largest travel platform, has a host of great sales benefits for advertisers. However, the main added value proposition can be condensed down to its ability to give advertisers the opportunity to be in front of consumers when they are actually in the process of planning and buying everything from a meal to a hotel room.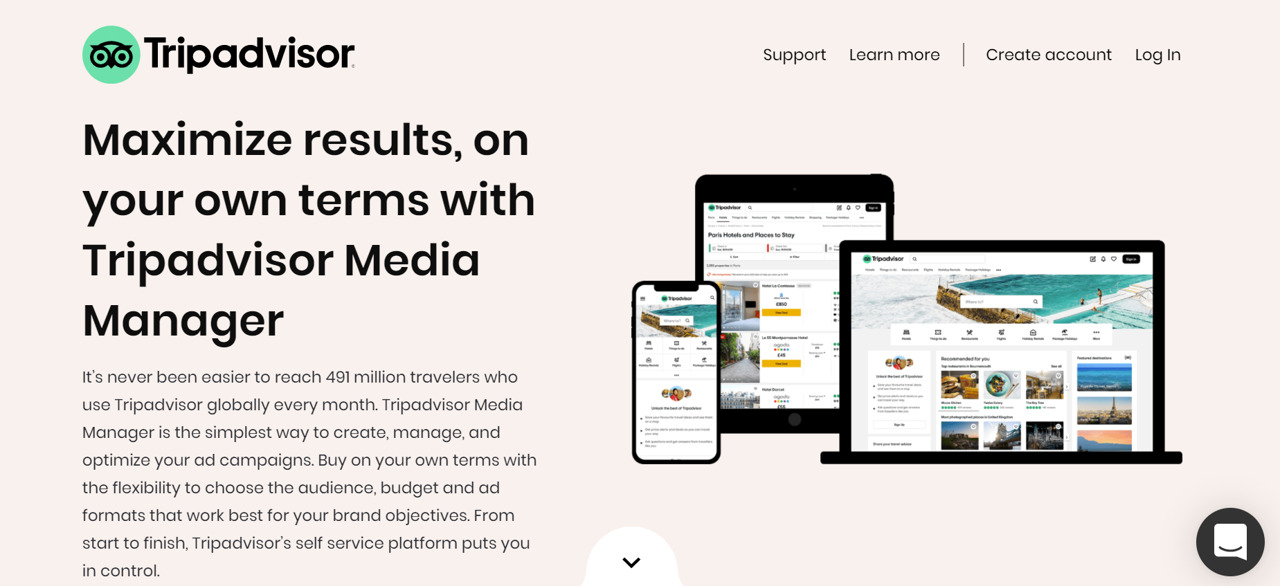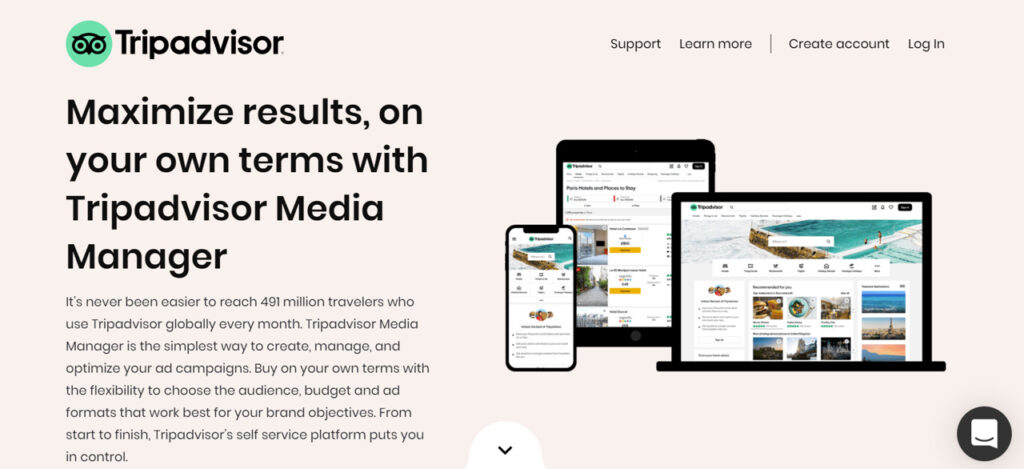 The Tripadvisor self-service platform (built by us, sorry for the shameless plug) needed to reflect this. That meant building the advertiser experience around granular targeting of the Tripadvisor audience by travel category and sub-category …something unique to Tripadvisor. Making this a major visual component of the platform and a feature very early in the booking process, has helped reinforce this added value proposition to the advertiser. 
2. Positive Engagement.
Think of it like this: a self-service platform can be really dull and nothing more than a functional 'booking' platform ..OR …it can actively sell your product as well. You need to work to make sure the platform engages positively with the advertiser and here are a few customer success tips we can share for doing this.
– Make it simple. If creating a campaign is a simple, understandable and fast process then the advertiser will enjoy the experience and be more likely to complete it and return again. Resist the urge to over complicate the interface with a daunting array of targeting options or product options.
– Give your advertiser control. Advertisers are unconfident creatures and need to feel they are in control not only in the booking process, but throughout the entire campaign. Give them a great campaign statistic dashboards which shows what is happening and importantly the option to make changes. Allow them to produce summary reports to show the boss. The more features they have for checking and analysing a live campaign, the more in control they will feel.
– Add a real person. It can be lonely using a self-serve platform and the last thing you want is an advertiser to feel unloved. A good self-service platform must have built in customer services that connect the advertiser to the ad ops team. Such as a real person on a live chat 24/7. What about a schedule of webinars to encourage a community feel and put a real person's face to the platform.The advertiser needs to feel that there is always someone there for them over and above your standard CRM communications.
3. Understand that Self-Service doesn't sell itself.
Whilst we would love to think that the shiny new self-service platforms we build for our publishers are all they will ever need, the reality is that without proactive marketing strategies, the platform will not reach its full potential.
– Make it easy to find. Your website is the first place an advertiser will look for contact details. You need to communicate your self-serve option in a strong and clear presence on the home page. Why not create a special landing page for your self-service and tell advertisers how easy it is…use video to hammer the message home. But above all else, make it easy to find, don't bury it because your web designer thinks it offends his/her great design.
– Relentless Promotion. Imagine there are thousands of advertisers who spend all their money on Google Ads,Facebook and Amazon because the tech giants make it easy and give them great tools. They would love to advertise with you but never had the chance before you created your self-service option. You need a marketing strategy that relentlessly targets these new advertisers and lets them know just how simple it is to advertise with you and that they will be in control through great campaign dashboard tools and reporting. 
– Don't forget your CRM. You will have a database of existing advertisers as well as new advertisers when they register on your self-service platform.Your CRM is of critical importance in maintaining awareness, increasing repeat bookings and reducing churn. There are hundreds of motivating CRM messages you can use – why not 'pre -register' all your existing advertisers and incentivise them with first booking vouchers? Or offer online onboarding to get them started?
As you can see, adding value to your self-service platform is really about engaging with it to ensure it reflects your best sales propositions and making sure your customer's experience of your self-service ad sales is a positive one. Do this, whilst always remembering that self-service doesn't sell itself, and you will have a successful platform and ultimately more ad revenue.