As the tech world buzzes with the advancements of AI, its latest feat is a tool that transforms complexity into simplicity: DanAds' AI video ad generator. In this exclusive conversation with Jeffrey Mayer, Managing Director and Head of Product at DanAds, we uncover the unique features of our self-serve and advertising automation platform, as well as discover what sets it apart in the advertising landscape.
It's essential for you as publishers, media owners, and advertisers to understand the significant impact AI will have on video ad production. This isn't just about keeping pace with technology – it's about leveraging it to create a competitive edge for your business.
Embracing AI means recognizing its potential to transform your advertising strategies from the ground up. It allows you to streamline processes, automate creative tasks, and produce high-quality video content that engages and converts.
The impact of AI video generators on advertising strategies
DanAds' AI video ad generator simplifies and optimizes video ad production, transforming it into a process as straightforward as a click of a button. Jeff is keenly aware of the impact this has on your advertising strategy. He explains:
"With our AI video ad generator, you can say goodbye to cameras, actors, audio equipment, and all the other physical components traditionally associated with video production. Instead, AI scours the web for data and effortlessly crafts a video that aligns with your brand. It's like magic, but it's real – and it happens right within many Ad Manager platforms created by DanAds."
Meet your new all-in-one ad creator
Diving deeper into the capabilities of this feature, it becomes clear why it's a key asset for professionals working with DanAds. It's designed as a comprehensive solution for creatives, democratizing video ad creation for businesses large and small. Jeff emphasizes the practicality and impact of the tool:
"This feature is a game-changer for our clients and advertisers. It offers a one-stop shop for all their creative needs, enabling businesses of all sizes to whip up promotional messages that are speedy, cost-effective, and right on time."
Powering a creative revolution
The distinction of DanAds' AI video ad generator becomes even more evident when considering its effect on the video production landscape. It's not just an addition to the platform's suite of features – it's the cornerstone of a creative revolution.
"The AI video ad generator is not just a cool feature; it's a creative powerhouse. It's revolutionizing video production and sharing by streamlining the process, converting concepts into captivating visuals with remarkable speed and simplicity," Jeff says.
Curious how it works? Watch this short video:
Mass production, personal touch
The merits of the AI video ad generator extend far beyond its initial appeal. It's a tool built for the needs of today's market, designed to scale with the ambitions of any business. Jeff sheds light on this scalability:
"Without a doubt, it's highly scalable, allowing for the production of videos in large quantities without compromising quality. Accessibility is a major advantage, too, as it doesn't require expensive equipment or specialized skills, making it accessible to all. And when it comes to personalization, it's a key advantage, enabling the creation of multiple versions of personalized synthetic videos tailored to specific audiences."
Create like a pro (without having to be one)
Jeff is quick to highlight how DanAds' AI video ad generator is reshaping the content creation ecosystem, making advanced tools available to more than just industry specialists.
"This feature equalizes content creation, extending its accessibility to a broader audience beyond experts. It's designed to be user-friendly, ensuring ease of use for all. Plus, it aligns seamlessly with the changing landscape of the internet, adapting to the shift from a static, text-based platform to a dynamic, interactive one, transforming how we communicate and consume ads."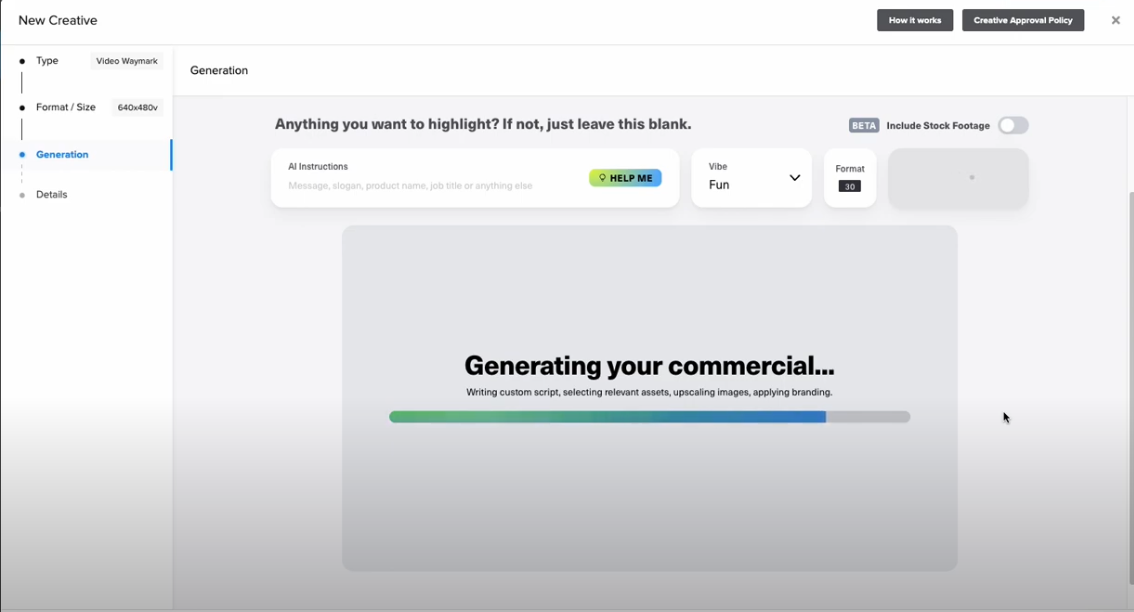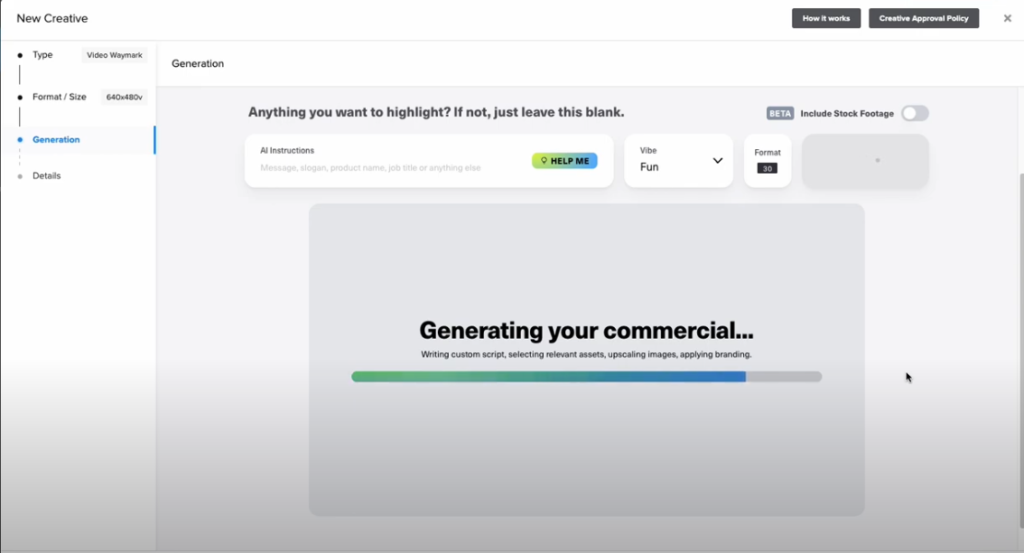 Fine-tune your vision
He also offers advice for harnessing the full potential of the AI video ad generator. To get the best from this innovative tool, interaction is key. 
"After the AI works its magic, it's always recommended to take a moment to review the initial result. Identify elements you love and areas that might need a little TLC. Add your unique style, such as images, clips, or animations that resonate with your message or story. You can further fine-tune it with features like auto-transcribe, auto-captioning, professional voiceovers, custom avatars, screen recording, and more – all tailored to your preferences."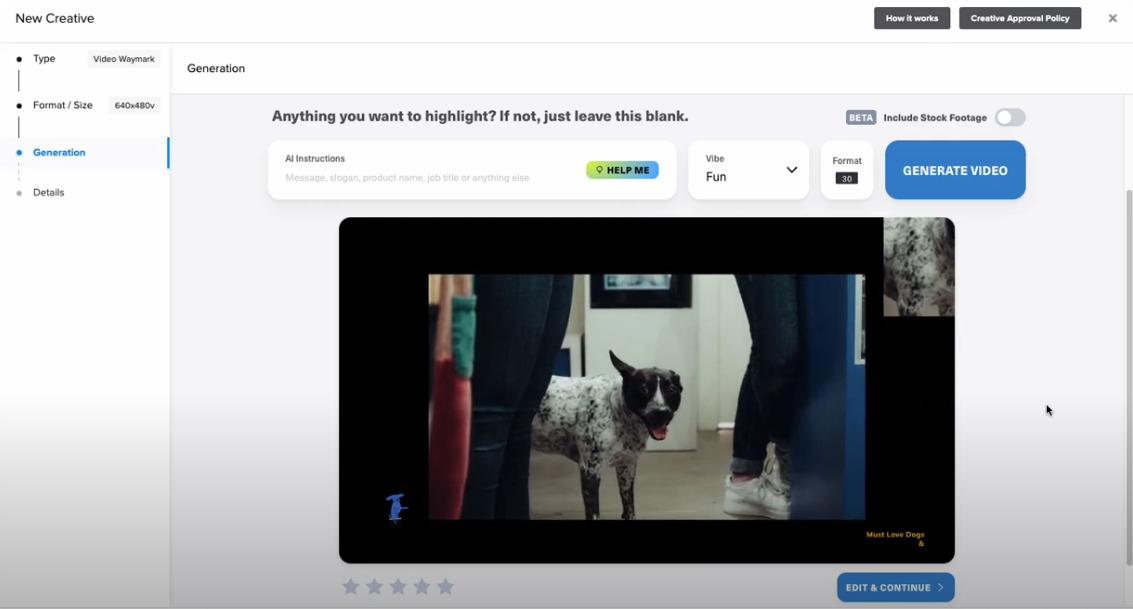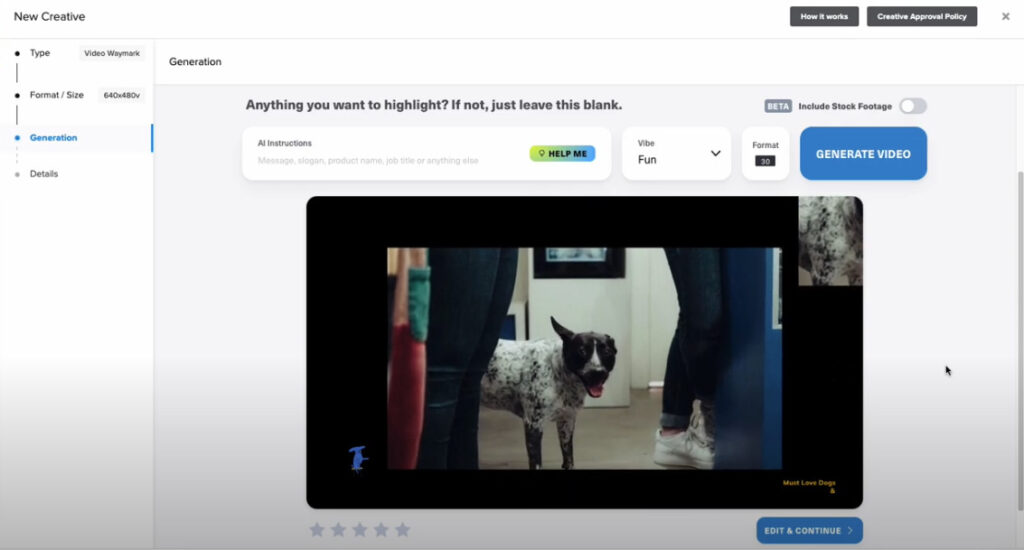 It's time to embrace the future
Consider the AI video ad generator not just a tool, but a collaborator that enhances your video production – dramatically. It's about enabling you to create with speed, cost-efficiency, and a touch of genius that's traditionally considered impossible (or very expensive).
This innovation is all about giving you control, new levels of creativity, and connecting with your audience more effectively. The technology is positioned to make scripting, producing, and customizing video ads not only faster but also a more intuitive part of your advertising strategy. For publishers and media owners, the question is no longer if, but when you'll take this step into the future. Why wait?
Ready to revolutionize your video advertising approach? The power of DanAds' AI video ad generator is just a conversation away. Contact us to learn how to leverage the feature to optimize your ad production and enhance your creative capabilities.