Sweden-based DanAds helps companies from all over the world to sell digital advertising. Now the company has received 45 million SEK from their owners, appointed Anders Borg (Sweden's former Minister of Finance) as chairman of the board, and partnered with the bank Nordea as their financial advisor. "All signs point to an IPO next year," says co-founder Istvan Beres.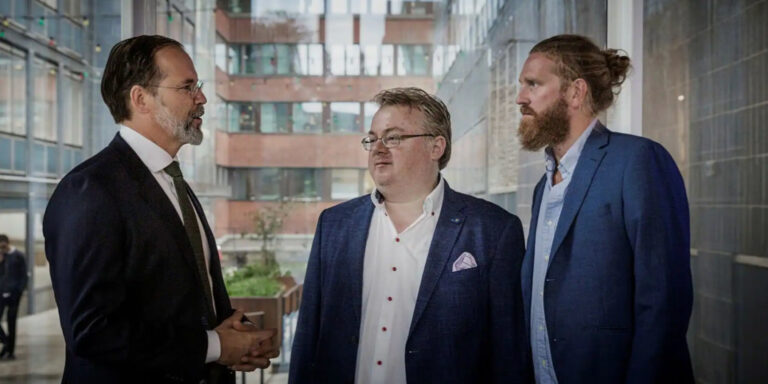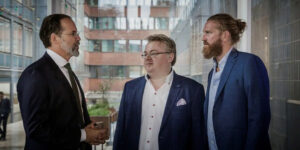 Anders Borg with DanAds founders Istvan Beres and Peo Persson. Photo: Josefine Stenersen
The Swedish tech company DanAds, founded in 2013 by Istvan Beres and Peo Persson, wants to connect large web platforms with SMEs. The company integrates their technical booking solution, which gives the advertising buyer a self-serve platform inside the publishers' systems. After that, the tool handles everything from booking, payment and billing of the advert, in formats as diverse as image, sound, text, and video. 
Among their clients are counted major global brands such as Bloomberg, Expedia, Phillips, Soundcloud, and Tripadvisor. They also support the American media giant Hearst and the British groups Reach and Mail Metro Media, who together have several hundred titles in their portfolio. A new customer acquisition is US-based Roku, a popular TV streaming service.
Despite the rocky year for the advertising market as a whole in 2020, where many companies cut costs during the corona pandemic, DanAds was able to grow their revenues by around 125% to circa 40 million SEK. The company takes between 1.5 – 5% of advertising revenues as earnings, plus a license fee.
"We have continued to grow rapidly. For the last decade the advertising market has been dominated by giants like Google, but they are coming under closer scrutiny from regulators – and companies are moving more towards automated systems like DanAds. All the middlemen and costs that exist on the market today, that we want to get rid of, hurt both advertisers and publishers," says Peo Persson, co-founder of DanAds.
DanAds has now taken in 45 million SEK in new capital through an equity issuance from existing owners such as the Storytel-billionaire Jonas Sjögren, Hugo Stenbeck, Mellby Gård's CEO Johan Andersson and the ecommerce star Alexander Hars, also a co-owner of Desenio. Until now, DanAds has prioritized growth in the US and UK, but with this additional capital the company seeks to expand its business to more countries in Europe. 
"The plan now is to launch our products in the rest of Europe and actively start discussions with potential customers, which we've done very little of until now. Naturally we're looking first and foremost at the largest and most populous markets such as Italy, France, Spain, and Germany," says Istvan Beres.
DanAds' most recent capital injection came in fall 2020, totalling 42 million SEK through a convertible loan, which DI reported on at the time. The company was then valued at approximately 185 million SEK. On the list of owners can be found the state-owned Almi Invest and the risk capital firm Wellstreet, as well as Paradox founder Fredrik Wester and Eirik Winter from BNP Paribas. 
Following the newest transaction, DanAds' valuation increased steeply to circa 370 million SEK. 
"We doubled our valuation in four months and closed the funding round at the maximum amount in 24 hours. Myself and Peo (Persson) went in with 15.5 million SEK of our own money, that's how much we founders believe in this company," says Istvan Beres.
DanAds has also chosen Nordea and Setterwalls as advisors in preparation for a potential IPO in 2022. The objective before then is to acquire an additional 100 million SEK in capital, but according to Istvan Beres it remains to be seen what valuation DanAds will seek then.
"This process will most likely result in an IPO next year. We're moving at a good pace and want to reach certain goals connected to profitability and stability before we move into quarterly reporting," says Istvan Beres. 
He adds that the objective is to reach a turnover between 80-100 million SEK in 2021, but that DanAds isn't yet aiming to make a profit on the whole year on account of continued investments in growth. 
The company's board of directors is likewise undergoing change. Anders Borg, former Minister of Finance, becomes the new chairman following a few years as co-owner. The company also takes on two new board members: lawyer Sophia Spala and Kristina Schauman, former CFO in several listed companies and board member of Billerud Korsnäs and Nent.
"DanAds is unique among Swedish companies in taking such a strong position in the US, which also suggests a promising future in Europe. This is a very effective software to bring back profitability in the media industry. But it's not just about automating processes, rather that the advertisers also gain access to a much better targeting of the consumers that they want to reach," says Anders Borg.
This article was originally published in Swedish by Dagens Industri on April 29th 2021, written by Johannes Karlsson, and is available here.