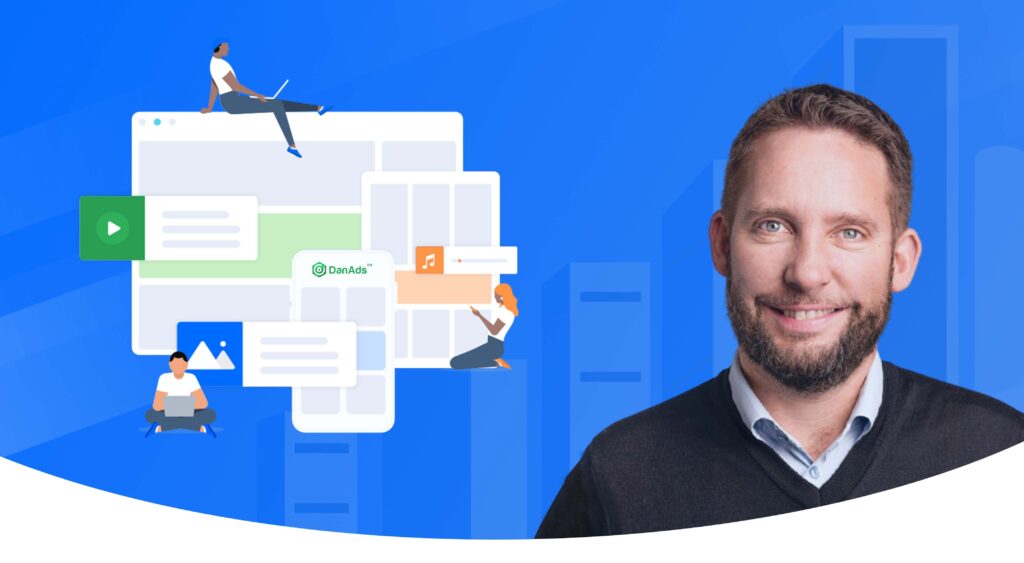 NB: This is a translation of part of a longer article first published by Dagens Media. The original article, by David Gustavsson, is available in its entirety in Swedish here.
There are thousands of ad-tech and mar-tech solutions around the world and at least 30-something leading providers in Sweden alone. Dagens Media has mapped out the market, and assessed the players.
Johan Liljelund is the CTO and Executive Vice President of DanAds. He makes the case that many programmatic ad platforms lack sufficient transparency. DanAds is a Swedish ad-tech company active in the US since 2018 and the UK since 2017, and now expanding into Spain, France, Italy and Germany. With the company's tool, publishers are able to automate their advertising sales and create a direct channel to advertisers via a self-serve system, Johan explains.
The technology makes it possible for publishers to cut out the middleman, and let advertisers handle ad placement, payment, assets, and reporting directly in the publisher's platform. The user data is never shared externally in the process.
Today, DanAds is the market leader in self-serve advertising platforms. Their clients are publishers in the US and UK, including Bloomberg Media Group, Hearst Magazines, Reach PLC (Daily Mirror, Daily Express, Sunday People) and Mail Metro Media (Daily Mail, MailOnline, Metro).
"We work in self-serve advertising, which is a rapidly growing phenomenon among larger publishers and which has further accelerated since the pandemic started. We quickly help publishers and media groups to digitalise themselves and take control over their advertising revenues and user data," says Johan.
He adds that DanAds wants to contribute to a democratisation of the advertising market and make it possible for publishers to compete with the tech giants for advertisers' budgets.
The programmatic value chain, he argues, is beneficial to neither the advertiser or publisher. With programmatic advertising, nearly half of advertising expenditure is lost in the process. The technology used by DSPs and SSPs is shrouded in obscurity, with a lack of transparency in data handling, he continues.
A recent example is The Guardian, who filed suit against Rubicon, claiming that the latter was taking unfairly large fees in relation to services delivered.
"This industry has been the big buyers' market where publishers have seen shrinking ad revenues and eventually put almost everything on programmatic. That's what we want to change. There's just too much "black box". If you take 20% in "tech fees" to mediate a deal then of course a lot of of value is lost."
Furthermore, small advertisers are virtually excluded from all advertising spaces, except Google and Facebook who together account for about 60% of the global advertising market today, according to Johan.
This market is expected to grow, primarily driven by small-to-medium businesses who are dependent on online advertising to be seen.
"We want to ensure that our clients have the tools to take a slice of this pie. Publishers need to find a way to earn money on their first-party data instead of giving it away to Google and Facebook. We want to help our clients to capture the large volume of lower budget deals out there via a self-serve platform, making it scalable and profitable for the publisher, says Johan.
He adds that advertisers like Telia, Ica Insurance and Philips – who sit on a lot of data and who traditionally use media agencies – have now started to handle an increasing number of ad purchases in-house.
Isn't there talk of the media agency's comeback as the number and complexity of in-house systems increases?
"That's correct. But I think it's possible to make it simpler with fewer systems. With the right technology in place you can own and manage your own data. Then you can create your own ecosystem."

"There is a crazy number of adtech and martech solutions. That technology is driving the market forward hasn't been good for the publishers. We've seen how adtech solutions collaborate to own more of the whole value chain. There are also many solutions that peak early only to disappear later on. And many of the systems that never really blew up have been bought up by Big Tech. Amazon, for example, acquired the DSP provider Sizmek. And in self-serve, Rubicon bought up two or three competitors to then shut them down."
Facebook and Google, for example, have gained too much control over data, which is motivating the trend towards self-serve. Johan cites the Washington Post's new project with several hundred publishers. The project aims to make direct connections to self-serve systems in a controlled manner.
A project of this scale can contribute to changing the rules of the market, says Johan. And self-serve marketing is an important piece of the puzzle. At the same time, Johan expects many solutions will be knocked out and disappear from a market with a flawed ecosystem.

"There's a long way to go before we reach a market that works for everyone, publishers and advertisers alike. At DanAds we think that the most important thing is transparency and data security; that's the key to building long-term, mutually beneficial partnerships."

Read more about self-serve and the future of online advertising here.